Attending Solar & Storage Live 2023
More than 15,000 people attended Solar & Storage Live 2023 earlier this month.
Leoch Battery UK exhibited at the three-day event at the NEC in Birmingham to showcase the company's energy storage systems and portable power stations.
We were one of more than 400 exhibitors, also took the opportunity to introduce our sister company Marxon to the UK market.
The Leoch Battery stand commanded a lot of interest, with many of the visitors to the showcase purposefully seeking us out for advice.
It was also fantastic to meet people who were coming across the brand for the first time and share all of our knowledge and  Intelligent energy storage solutions.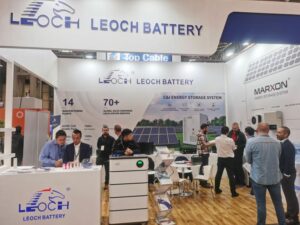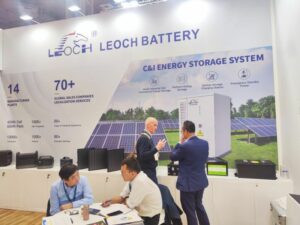 Solar & Storage Live 2023
Solar & Storage Live 2023 is the UK's largest renewables only conference and trade show.
It focuses on three key enabling technologies – solar, storage and electric vehicles – to aid the path to net zero.
The Leoch Battery team said the event was hugely beneficial, with opportunities to meet like-minded industry professionals, network and share best practices.
The conference also included an innovation zone, awards ceremony and smaller breakout events in the six theatres, which each had a specific theme – Large Scale Utility Solar, Commercial and Industrial Solar, Everything Installer, Batteries & Storage, ChargeEV and Solar Innovation and Technology.
A Leoch Battery spokesperson said: "Exhibitions and events such as this give us a great presence in the market, as well as the opportunity to introduce ourselves to potential new customers. Solar & Storage Live is a fantastic experience for exhibitors and visitors alike and we have come away from the showcase excited and invigorated by the connections we made and the things we learned. We already look forward to next year!"
Our dedicated team would be delighted to advise on energy storage product information. You can contact us on 01858 433 330 or email sales.uk@leoch.com